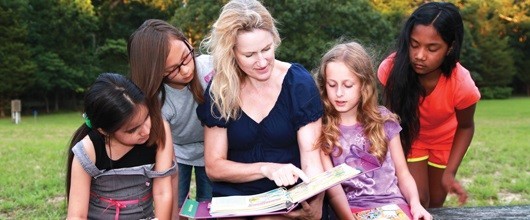 Alumnae
Approximately one in every two adult women (49%) in the United States has—at some point—been a member of Girl Scouts. There are currently 59 million Girl Scout alumnae living here in the U.S.
If you were a Girl Scout Daisy, Brownie, Junior, Cadette, Senior, Ambassador, or an adult volunteer—you were a Girl Scout! Remember, once a Girl Scout, always a Girl Scout!
Join the Girl Scout Alumnae Association
Just like you remember, girls today are grabbing their sit-upons for a song around the campfire. They're bettering their communities with food drives and educational workshops. They're still earning plenty of badges.
Girls today are also building apps and robots, discovering their inner entrepreneur, and gaining the confidence they need to change our world for the better!

Girl Scouting works!

It's the 100th Anniversary of Girl Scouting's Highest Award!
Have you received Girl Scouting's highest award? As a recipient, you are among an elite group of women earning this honor. Starting in 1916, the best and brightest undertook projects that improved their communities—and the world. The Golden Eaglet insignia, the highest award in Girl Scouting from 1916 to 1939, marked the beginning of a long tradition of recognizing the extraordinary efforts of extraordinary girls. From 1940 to 1963, the Curved Bar Award was the highest honor in Girl Scouting. From 1963 to 1980, the highest award was called First Class. Since 1980, the Gold Award has inspired girls to find greatness inside themselves and share their ideas and passions with their communities.
If you received one of Girl Scouting's highest awards and would like to assist with Girl Scout Gold Award 100th Anniversary activities in local celebrations, contact  Pat Bateman.
How would you like to help girls—just like the one you used to be—uncover more of those special moments? The moments when you realized you could do pretty much anything you set your mind to. By sharing your talents, stories, and time with us, you can inspire a new generation of Girl Scouts.
If you're interested in finding out how you can help today's girls or simply reconnect with Girl Scouts, contact Pat Bateman, Chief Development Officer, at 812-421-4970, Ext. 326, or send an email. 

Work with GSSI's Council Historians
Create historical programs-in-a-box for troop use
Tell stories and visit troops at their meeting location
Assist with sorting and cataloging of archive collections 
Assist with scanning of archived photos and documents

Reconnect with Girl Scouts!
Fill out the form below to reconnect with Girl Scouts in our area. You can learn about other alumnae and opportunities to volunteer for GSSI.