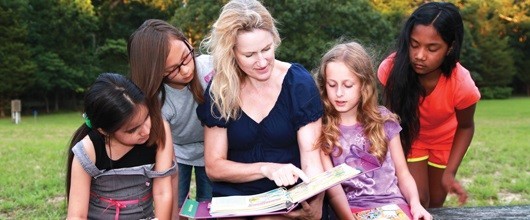 Alumnae
Approximately one in every two adult women (49%) in the United States has—at some point—been a member of Girl Scouts. There are currently 59 million Girl Scout alumnae living here in the U.S.
If you were a Girl Scout Daisy, Brownie, Junior, Cadette, Senior, Ambassador, or an adult volunteer—you were a Girl Scout! Remember, once a Girl Scout, always a Girl Scout!
Just like you remember, girls today are grabbing their sit-upons for a song around the campfire. They're bettering their communities with food drives and educational workshops. They're still earning plenty of badges.
Girls today are also building apps and robots, discovering their inner entrepreneur, and gaining the confidence they need to change our world for the better!



Work with GSSI's Council Historians
Create historical programs-in-a-box for troop use
Tell stories and visit troops at their meeting location
Assist with sorting and cataloging of archive collections 
Assist with scanning of archived photos and documents

Reconnect with Girl Scouts!
Fill out the form below to reconnect with Girl Scouts in our area. You can learn about other alumnae and opportunities to volunteer for GSSI.