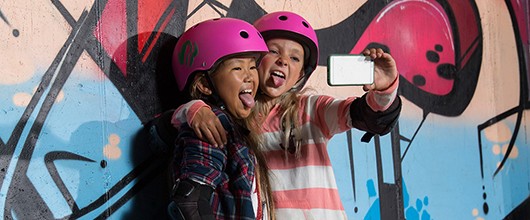 When you unleash your inner G.I.R.L., you can accomplish anything!
At Girl Scouts, the next opportunity to stand up, speak up, and take the lead is never far away. With us, you'll discover the G.I.R.L. (Go-getter, Innovator, Risk-Taker, Leader)™ in you, and watch her shine, again and again.
Will you find a sustainable solution to a problem in your community? Will you explore the great outdoors? Build a robot? Learn to code? Conduct an experiment?
With us, the possibilities are truly endless. Discover all you can be and everything you can accomplish when you have the right tools and a safe space to shine—and work together to change the world. 
So what are you waiting for?
 

Need to know more so you can decide what's right for you? Check out all the different ways to take the lead at Girl Scouts. Or, see all the exciting possibilities Girl Scouts offers for girls of all ages and choose your adventure.
Already a member? Log in to renew.
Interested, but want to know more before diving in? Let us know, and we will be in touch to answer any questions you may have about Girl Scouts in your area!
Get involved at a Recruitment Event near you!
Daviess

Contact support@girlscouts-gssi.org for information about Girl Scouts in Daviess County. 

Dubois

Contact support@girlscouts-gssi.org to find out more about Girl Scouts in your area.

Gibson

United Fidelity Community Day

September 16, 9:00 a.m. - 2:00 p.m., Fort Branch United Fidelity

Visit the Girl Scout table for a fun activity! 

Knox

United Way Event

August 31, 11:30 a.m. - 7:00 p.m., Riverfront Pavilion in Vincennes.

Visit us for fun at the Girl Scout table! 

Martin

Contact support@girlscouts-gssi.org for information about Girl Scouts in your area. 

Perry

Contact support@girlscouts-gssi.org to find out more about Girl Scouts in your area.

Pike

Recruitment Night

August 20, 2:00 p.m. - 4:00 p.m., Pike County History Center

Posey

Family Day in the Park

September 9, 10:00 a.m. - 6:00 p.m., Civic Center

Visit us for fun at our Girl Scout table! 

WNIN Kids Fest

September 23, 9:00 a.m. - 3:00 p.m., 2 Main Street, Evansville

Visit us for fun at our Girl Scout table! 

Spencer

Recruitment Night

David Turnham, September 5, 6-7 p.m.

Recruitment Night

Chrisney, August 28, 6-7:30 p.m., Zion Church

Recruitment Night

Rockport, Luce, and St. Bernards, September 6, 6-7 p.m., location TBD

Recruitment Night

Lincoln Trail, August 29, 6-7 p.m., Lincoln Trail Cafeteria

Recruitment Night

Nancy Hanks, August 28, 6-7 p.m.,  

Vanderburgh

Family Day in the Park

September 9, 10:00 a.m. - 6:00 p.m., Civic Center

Visit us for fun at our Girl Scout table! 

WNIN Kids Fest

September 23, 9:00 a.m. - 3:00 p.m., 2 Main Street, Evansville

Visit us for fun at our Girl Scout table! 

 

 

 

Warrick